Activities & Role-Plays…
Whilst I am adaptable enough to tailor sessions to encompass a slave's own particular tastes & preferences I do not undertake to carry out a pre-set list of specific activities (I have no time for those who seek to 'top-from-the-bottom'!)  Therefore, whilst any special requests will be duly taken into consideration, you should remember that you will exist to serve Me and it will be My pleasure & satisfaction that will be of paramount importance during a session and that any special privileges sought will need to be earned! 
My areas of expertise and preferred 'activities' include (but are not limited to):
Note that I do NOT undertake any kind of Hardsports / Scat nor any blood-letting activities.
If you have a particular interest in an activity which is not listed above, you have My permission to e-mail Me to respectfully enquire whether it is something that I would be interested in including within a session or not.
Role-Plays: I very much enjoy Role-Play scenarios and am willing to consider most suggestions for scenarios from slaves who have already attended an initial appointment with Me. However, do not mistake Me for an amateur 'hooker-with-a-whip' who will simply act out your own specific list of instructions.  Working to a detailed script or list of directives is rarely conducive to being much fun!  If you have a particular scenario or role-play in mind you are welcome to submit a brief outline for My due consideration and I will then confirm whether it would be of any interest to Me or not.
The following are scenarios which are commonly requested and which I am able to facilitate:
Dom Female Boss: For those individuals that are not into the full-on Fem-Dom scenario, I do cater for those who enjoy being controlled & bossed around by a Domineering, sexually demanding cougar such as Myself (indeed, such situations are very much suited to My own tastes!)
For example, you could be summoned to attend your Female Boss's home to explain your disappointing recent sales figures.  you will arrive to find Me power-dressed in a smart, tight-fitting business suit over black Agent provocateur lingerie teamed with seamed, stockings, suspenders & spike-heeled stilettos.  After admitting you, I will grill you about the reasons for your disappointing performance sales-wise before making it clear to you that if you wish to keep your job then you will need to make sure that I am fully satisfied in other ways…!
I will then order you to strip naked before I remove My jacket, skirt & blouse and tell you that you will now do exactly as you are told as I intend to use your body fully for My own personal pleasure & amusement and that your tongue & cock will be My own personal sex-toys to use in any way I wish!  you would then be led into either My playroom or up the stairs to my Inner Sanctum where, rest assured, you will be thoroughly and totally used until My carnal desires are finally satiated and I permit you to finally gather up your clothes, dress and leave.
Of course, this scenario is just a suggestion and can be adapted to suit an individual's particular fantasies.  However, it will always be Me who is fully in control and dictates proceedings – it would hardly be Female Domination otherwise, would it?!  Such scenarios also lend themselves particularly well to CFNM situations.
Prices for Dom Female Boss role-play scenarios are as per my standard Fem-Dom rates
Enforced Bi: For those slaves that wish to be made to perform oral or full bi under the direction & supervision of their Mistress, I can arrange for a well-hung, hooded male slave to be in attendance during a session for you to be made to perform oral sex on to full completion in your mouth and/or he will perform oral sex to completion on you.  This situation lends itself particularly well to using my Glory-Hole where you will not even see the slave – just be presented with his big hard cock as it pushed through the hole in the dirty stained ceramic tiles covered in explicit graffiti ready for you to take in your mouth and suck until you feel the slave's hot sperm pumping into your throat whilst I hold your head in place by your hair & shout at you to swallow every last disgusting drop!  If you wish to take this a stage further I can secure you to my steel bondage bench and use my strap-on to open you up ready for My sub to penetrate you anally – perhaps I might enjoy alternating and taking turns at you to see if you can tell the difference between the way a real stiff cock and My big rubber strap-on feels in your arse as you are totally used & humiliated?
The extra cost for an Enforced Bi scenario to be included within a session (min. two hours) is £100
Glory-hole: For those sub's who harbour fantasies of enforced-bi under their strict Mistress's supervision, My Glory-Hole cubicle provides the ideal scenario for a slave to suck another man's cock totally anonymously.  Especially effective for those who wish to be feminised and dressed as sissy-sluts with slutty outfits including stockings, suspenders & stilettos, make-up/wigs and even silicon breasts & female genitals – all of which I have available should I choose to turn you into a cock-sucking sissy slut for My amusement.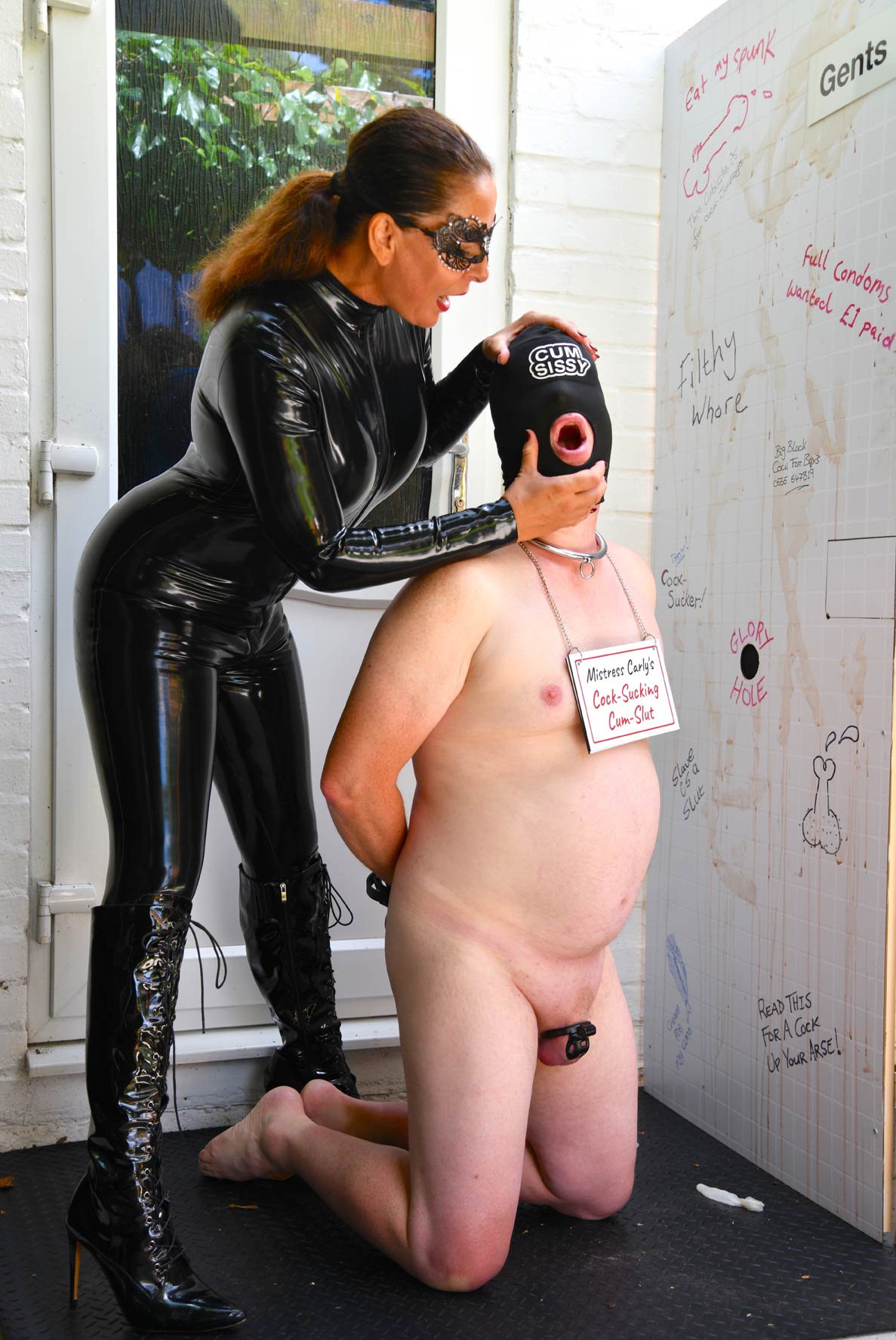 Once suitably 'sissified' you will be ordered to prepare yourself by perfecting your cock-sucking technique on My strap-on and/or realistic male torso with eight-inch erect cock, until I am satisfied that you are ready to suck a real stiff cock.  you will then be led into My Glory-Hole cubicle (which is directly adjacent to my playroom) and ordered to kneel (amongst the used condoms lying on the floor) in front of the stained & graffitied tiled wall facing the hole cut into the wall at groin height (or mouth height for you, once you are kneeling) to await commencement of your duties.
I will have arranged for a man (or men) to attend at a specific time and you will likely hear them step into the cubicle on the other side of the partition.  They will first pass a ten-pound note through the hole as payment, which you will take and immediately pass to Me.  They will then drop their trousers to feed their cock through the hole for your attentions.  I will stand over you as you reach up and wank the stiffening penis, taking in the sight of what you are about to suck, before I push your head forward to take the erection in your mouth and order you to pleasure the recipient until he ejaculates, whilst I watch. 
Heavy breathing emanating from the other side of the wall will undoubtedly alert you to when the anonymous man is about to squirt.  I shall then either pull your head back and hold it in place as I reach down and finish him off with my latex-gloved hand, so that he ejaculates heavily in your face, or I shall hold your head in place on his cock so that he deposits his full dirty load in your mouth.  If the former, then I shall smear his hot sperm all over your face with his cock before you are ordered to lick his penis clean.  If the latter, then of course I shall expect you to swallow every drop of his thick, pungent slime before licking his penis clean.
I shall expect you to say 'Thank-you' as the cock is withdrawn from the Glory-Hole and you hear the anonymous man who you have just sucked-off dressing & leaving.  I have several local men on call who will attend My Glory-Hole cubicle and pay ten pounds each to be anonymously sucked-off by a sissy-slut – how many could you take in one session?
Of course. feminisation or sissification is not essential for enforced-bi scenarios in My Glory-Hole cubicle – if you just wish to be ordered to suck-off a man for My viewing amusement or to earn Me ten pounds, then it can be incorporated into a Glory-Hole scenario without this.  The beauty of My Glory-Hole is that it is completely anonymous – you will never see the man you are sucking off or know who it is.  you will have no idea if he is young or old, slim or fat – you will simply do as I order you to and suck-off another man to full facial/oral completion in front of Me, your Mistress, to prove your devotion and obedience to Me!
Cuckold: For those who would like to experience a full-on Cuckold scenario I can arrange for a well-endowed slave to be in attendance for part of a session (of two hours or more). you will be made to worship his erect tool (including perhaps performing oral on him under My direction?) whilst we both ridicule your pathetic cock. you will then be made to watch him pleasuring Me bareback at (very!) close quarters whilst being verbally humiliated until he ejaculates inside Me – at which point you will of course be expected to perform full clean-up duties with your tongue (on either just Myself or us both) swallowing everything that he has just deposited inside Me.
The extra cost for a cuckold session (for one hour) is £100 
Note that Cuckold & Enforced Bi options are only available to those slaves who have already attended an initial appointment with Me and you may also be instructed to pay an on-line deposit at My discretion.
Interrogations: If you have fantasised about being held in an interrogation cell by a viciously wicked but extremely beautiful female police or military officer who will use any means at Her disposal to coerce you into confessing to a crime you didn't even commit, then you are invited to see if you can resist the heady mix of sexual temptation and excruciating torments that I will put to use on you. Not for the faint-hearted as I will use My ample charms to ensure that your genitals are fully engorged with sexual desire for Me before I use the extensive array of equipment (especially My undoubtable skills with electrics) to inflict maximum pain until you finally break and sob like a baby, begging Me for mercy!
Headmistress: Have you been a very naughty boy? Have you been misbehaving in class or failed to hand in your homework on time? Well you should report to My study where you will be expected to explain your conduct before pulling down your trousers and bending across My antique mahogany desk ready to receive swift punishment at My expert hand with cane, crop or tawse. Of course, administering such chastisement is hot work, so I may well decide to disrobe down to just My stockings, suspenders & stilettos. Be warned though, do not dare to become erect at the sight of My sumptuous 36″DD breasts, as if you dare to do so, I may well decide to make full use of your erection for My own wicked pleasures – and woe betide you if you should fail to satisfy Me totally!